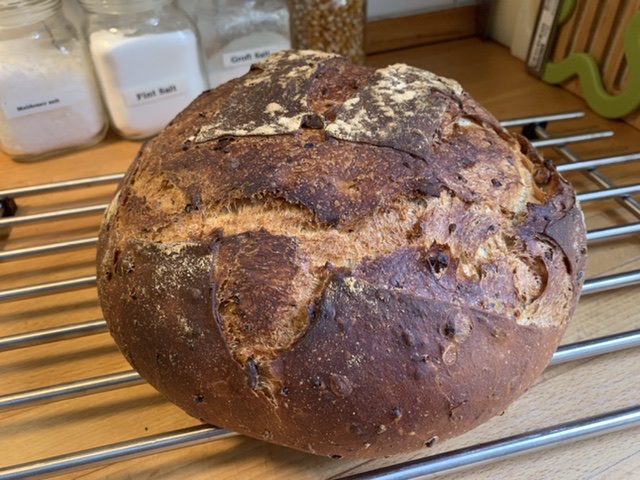 So I got this amazing bread cloche from Emile Henry as a birthday gift from my better half. That he actually listened to me was almost as amazing as the breads I make in this cloche.. almost.
I used my friend Rosaly's 'Recycle bread' as an inspiration.
Recipe:
Wheat kernels, pumpkin seeds, sea salt, two slices of brown bread- 'Rugbrød' in Danish- the kind with lots of grains and kernels. If you don't have any, use ryewita/ 'knækbrød'- anything with whole kernels/ seeds. Cover it with water in a pot and let it simmer for half an hour, leave to cool completely. It should have the consistency of oatmeal porridge.
Mix yeast ( I used ecological yeast, but anything will do) ( maybe 15-20 grams to about one kilo of flour) with water and malt syrup, leave it for a bit for the yeast to start activating. Mix in the kernel and seeds and use the mixer on slow speed. Add Manitoba flour and some olive oil, sea salt and mix it for a good while, depending on how strong your machine is. I maybe mix my dough for 20-30 minutes in my Kenwood, full speed at the end. When the dough comes together as a loose ball and makes slapping sounds, it's done. The dough has to be semi wet, meaning it's not a very wet dough but not a firm hard dough, just so firm it almost doesn't run out when you pour it into the table. It's a balance, if it's too wet add a bit more flour and ifs it's too firm and hard add more water. Just remember then kernels will soak up some of the liquid the longer it stands.
Notes: The Recycle bread Method works fantastic and gives you bread with lots of taste and depth and you don't waste old bread. You can recycle any kind of ( Homemade) bread. If you have any leftovers from the last time you baked, dry it up in the oven, bit like if you are making breadcrumbs. Then it keeps for a long time in a airtight container. When you need to bake, take some, soak it in water and add it to your dough.
I boiled my mixture as I had the wheat kernels in it and they need to be soaked or boiled. I tend to boil my kernels and seeds and I do so because when I do it with salt and sugar, they add more taste.
The malt syrup gives a sweet but also a slightly tangy taste to the bread and also gives it a nice dark color. I prefer malt syrup in bread like these.

Oil, why oil in this bread? Normally I don't bake with oil, but in this bread it makes sense, makes the interior keep most longer.
Proofing the dough.
Leave the dough in an oiled bowl covered with plastic and a cloth to rise in the fridge over night. Can be more. My friend Rosely says she sometimes keeps it for two days in the fridge. Be sure to take the dough out hours before you need it as it has to be room temperature for the yeast to wake up and start it's magic.
Pour the dough out on a table with lots of flour on it or it will stick. Roll one ball with the method where you sort of fold it around it self and sealing it at the bottom. It has to be all round and tight. Leave it to rise for an hour.
Baking the bread.
You have two options now:let it to rise in the cloche or leave it out on a board or the floured table. If you choose the first option, you Bake the bread in a cold cloche. If you choose the second option you heat the oven with the cloche in it and gently ( not to inflate it) move the dough in to the cloche before baking it. It makes the bottom more crispy some says. I tried both and I have to admit, it didn't make any difference to me. The bread that was left in the cloche to rise, was nicer looking..as I didn't handle it/ didn't have to move it.

With a very sharp knife make some incisions In the bread and bake it in an 240 degrees oven for about 35 minutes, then remove the top and give it maybe 10 minutes more to crisp. Leave the bread to cool off slightly on a rack.